| Item ID | Starting Bid | Bids | Current Bid |
| --- | --- | --- | --- |
| 108428 | $75.00 | 6 | $135.00 |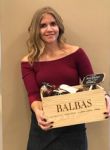 Basket: EMV $165
1792 Small Batch Kentucky Straight Bourbon - A high rye component adds peppery lift to the predominant and sweeter corn in this bourbon, formerly named Ridgemont Reserve. But this is a rich, creamy spirit at its core. Brown sugar, butter, toffee, apple pie and licorice come through on a velvety texture. It carries the (precisely measured) 46.85-per-cent alcohol well, thanks to its depth of flavour. Score - 94. (Beppi Crosariol, The Globe and Mail, Jan. 17, 2017 )
Happy Warrior Cask Strength Bourbon - "Floral to the nose, with an incredibly smooth and well-rounded sweet flavor. Complex hints of caramel, vanilla and with a wonderful warm finish."
ABOUT DISTILLED LIQUOR CO...
Distilled Liquor Co. (located in Centre Village Mall) is customer focused and brings experiences to the forefront of the purchase of spirits, beer and wine. The experiences we provide to our customers range from weekly events to an inspiring story about a unique product that ignites the imagination. The way we achieve this is through our educated teams that are passionate about the products we sell. From the latest craft beer to specialty scotch, we aim to have product and staff that will be unparalleled in the Lethbridge market.