| Item ID | Starting Bid | Bids | Current Bid |
| --- | --- | --- | --- |
| 108426 | $50.00 | 0 | $0.00 |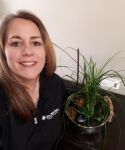 Tropical Planter. Value $75. This gift has been donated by fellow Rotarian, Lesley Colburn-Swartz, Owner of Pro Plant Care.
ABOUT PRO PLANT CARE....
Would you like to transform your...... business image?... health?... your bottom line?
Pro Plant Care is your "Business Makeover Professionals"
What are the first impressions people get when they walk into your business? By adding lush and healthy plants, your office can immediately be transformed into a warm and welcoming environment.
We are excited to unveil four Prepackaged Interior Plantscape Design Programs for our potential clients. Our goal is that you as a business leader can readily see and choose an interior plantscape that best suits your business goals and needs. All programs will be designed to the specific lighting and space requirements of your business. Programs are monthly, so your business can stabilize cash flows and budget accordingly. Call us today if you want to find out more.
Lethbridge's Award Winning Interior Plantscape Company for over 20 years.