| Item ID | Starting Bid | Bids | Current Bid |
| --- | --- | --- | --- |
| 108416 | $50.00 | 18 | $295.00 |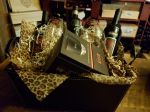 A great basket with a great story. 1 of 36 bottles in Canada. The Wine Cavern is celebrating 15 years in business. They donated $150. towards a wine basket. Our Rotary club matched their $150. to create a $300. wine basket. Our club decided to use the $300 wine basket as an "Early-bird prize" for table purchasers.
At the meeting we held the draw, Jackie Lovell from RBC just happened to be seated closed to the front.... so we asked Jackie to draw the winner. As luck would have it, Jackie drew her own name!
Jackie and her RBC team have donated this item back to Rotary... and now you get to bid on some great wine with your bid going to a great cause!
Bid High! Bid Often!